Lithic Bookstore & Gallery
---
---
Lithic Bookstore & Gallery offers a fantastic selection of books, art, handmade goods and other curiosities. Located upstairs in the old bank building, downtown Fruita, Colorado.
Open:
Thursday-Saturday 12pm-8pm
or
By Appointment (970) 858-3636

Lithic Bookstore & Gallery
138 South Park Square #202
Fruita, CO 81521
*Upstairs above Coloramo Credit Union and Hershberger Furniture. Enter through lobby door on the east side of the building, from Mesa Street.

Upcoming Events Events:
Thursday, January 21st: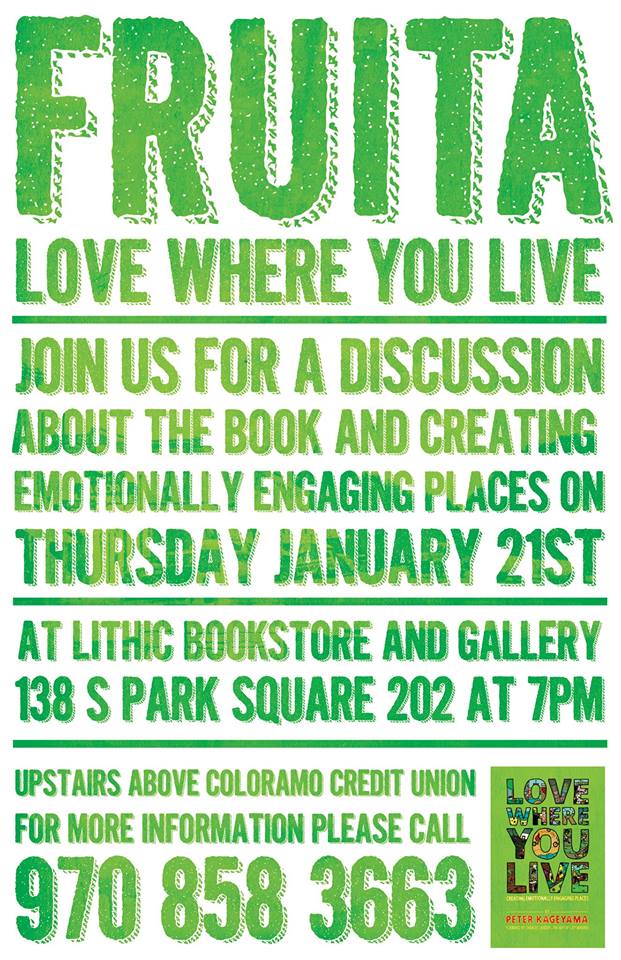 Love Where You Live: Book & Community Discussion (7pm)
Love Where You Live is a book written by Peter Kageyama about creating emotionally engaging places. We'd love to encourage people to read the book (we have copies here at Lithic) and then get together to discuss how the ideas may apply to our community here in Fruita, Colorado. Everyone is welcome to attend! We will provide coffee, tea and snacks.
Thursday, February 4th: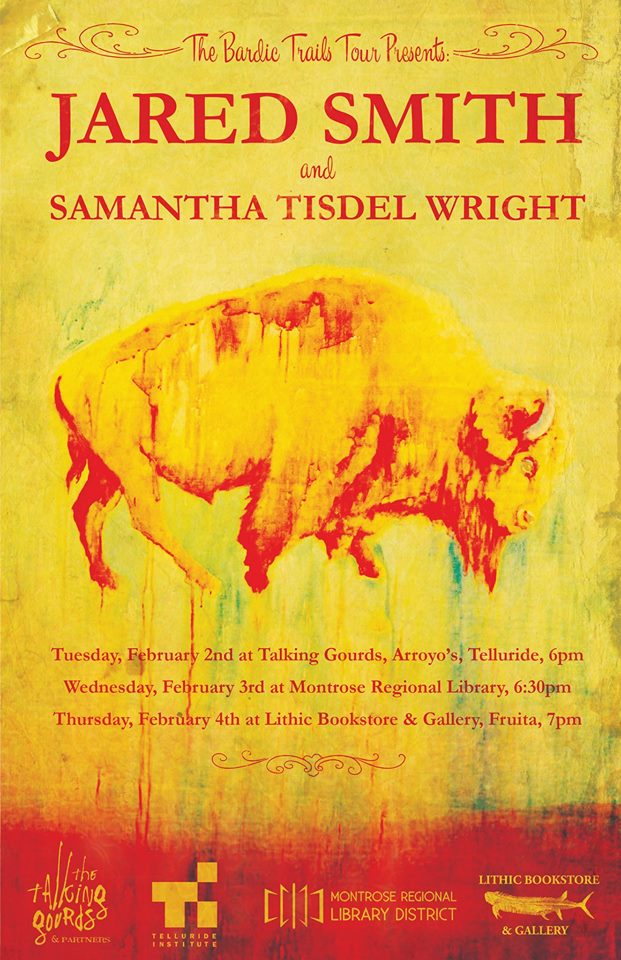 JARED SMITH has ten volumes of poetry to date and has had hundreds of publications in literary journals across the nation over the past 30 years, in addition to several foreign countries. He has published reviews of the works of such major contemporary poets as Ted Kooser, C.K. Williams, and W.S. Merwin, as well as several craft interviews, including one with Ted Kooser that was translated into Chinese for republication in Taiwan and Mainland China. Jared's work has also been adapted to stage in both New York and Chicago. His poems, essays, and literary commentary have appeared in The New York Quarterly, Confrontation, Spoon River Quarterly, Kenyon Review, Bitter Oleander, Small Press Review, Greenfield Review,
Vagabond, The Smith, Bitterroot, Rhino, Ibbetson Street Press, Wilderness House Review, After Hours, Poet Lore, The Pedestal, The Partisan Review, and many others.

SAMANTHA TISDEL WRIGHT is a nationally recognized journalist and poet who has worked for a variety of publications on the Western Slope of Colorado, including, most recently, The Watch newspaper. During her tenure at The Watch, she won the Sigma Delta Chi Award for Breaking News from the Society of Professional Journalists for her reporting on a double-fatality at the Revenue Mine near Ouray. She also won over a dozen awards from the Colorado Press Association as a reporter and editor at the Ouray County Plaindealer, and is a two-time runner-up for the Mark Fischer Poetry Prize. Before settling into her career in journalism, Wright explored far-flung corners of the world ranging from the Silk Road to the Killing Fields to the crocodile-infested rivers of Queensland, Australia. She has pulled pints in a 500-year-old English pub, cast nets from a commercial fishing boat in Alaska, taught English in the People's Republic of China, and worked as a firehouse dispatcher and science writer at McMurdo Station, Antarctica.Today, she writes and raises two red-headed children with her husband in the San Juan Mountains of southwestern Colorado, dividing her time between Silverton and Ouray.
---
A schedule of Lithic Bookstore & Gallery Grand Opening events:
Friday, August 14th: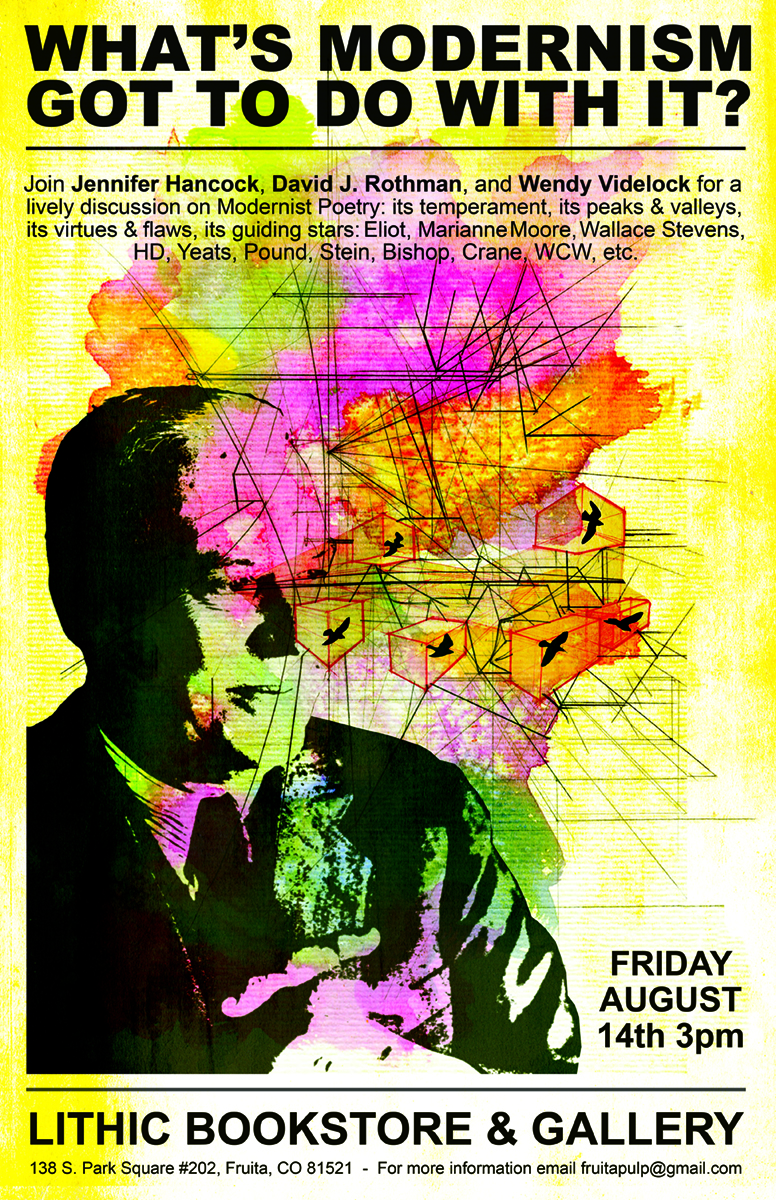 What's Modernism Got To Do With It (3pm-5pm)
Join Jennifer Hancock, David J. Rothman, and Wendy Videlock for a lively discussion on Modernist Poetry:
its temperament, its peaks and valleys, its virtues and flaws, its guiding stars: Eliot, Marianne Moore, Wallace Stevens, HD, Yeats, Pound, Stein, Bishop, Crane, and William Carlos Williams.
Going Down Grand: Poems from the Canyon (7pm)
Poets Rick Kempa, Bruce Berger, Mark Irwin, Beth Paulson, John Nizalowski, Danny Rosen and more will read work from the newest Lithic Press title, Going Down Grand: Poems from the Canyon. Going Down Grand, the first
full-length anthology of Grand Canyon poetry, gathers the voices of cowboys, explorers, river-runners, hikers, artists, geologists, rangers, and others whose words bear witness to this complex and magnificent place. For readers on the river, the trails, the rim, or beyond, the poems on these pages will make fine canyon company. (For more information, please visit
www.LithicPress.com
)
Complimentary the reading of canyon poems, we will be showing archival video of the Grand Canyon during the 1930's and Brendan Swihart will be showcasing his black and white Grand Canyon photography.
Saturday, August 15th:
Lithic Bookstore & Gallery Grand Opening Celebration (7pm)
Help us celebrate our grand opening! Featuring short readings by Lithic Press poets Frank H. Coons, Kierstin Bridger, Danny Rosen, Kyle Harvey and more. The event will also feature local art and music. Complimentary wine, beer and appetizers will be provided.