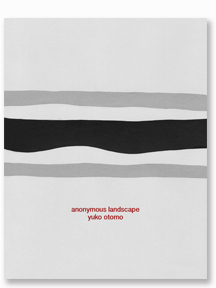 Anonymous Landscape
(September 1st)
Yuko Otomo
Perfect Bound
120pp
ISBN
978-1946-583-109
$17.00/ Poetry
Fall 2019
Praise for Anonymous Landscape:
Yuko Otomo left Japan and she came to New York City. But the Japanese print remains and the print is devoid of shadows. Persistence and passion finds and locates, call it calligraphy is for lovers. Call it nothing. Call it circumstance. Say nothing, begets nothing. Yuko's humanity survives. She is a creature a verb a maker of her own invention.
–Basil King
"An open and continuous field, Anonymous Landscape has no borders. This sublime work in which "we are all named & nameless" welcomes everyone and everything. Yuko Otomo shares her unequivocal observations of others, objects, music, and language in a direct verse that manifests itself in recognition, reflection, humor, creation, and compassion. Anonymous Landscape is not only a poem, it is a poem-painting, a poem-symphony."
–Marisol Limon Martinez
"In a country renowned to be possessive of its language – France ‒ Yuko Otomo composed her manifesto Anonymous Landscape. There are no raised fists, no resentments, no confrontations, and only a modicum of regret. Released rather than frustrated by her inability to name things in that proud tongue, she leads the reader to understand her reunification with all creation, as if returned to the Garden prior to the delegation of appellation. An act of reverse alienation. Her immodest proposition is rendered in the most modest of dictions. There are 200, call them sub-poems, each with an integrity of sometimes aphorism, imagery, irony or moving simplicity. Their austerities match the austerity of her persuasion. Their gem-likeness has the credibility of lived thought. Her sensitivity to words and the demands of craft, not by chance, renders us an implausible beauty."
–John Godfrey
Tags: Lithic Press, , Yuko Otomo, anonymous landscape