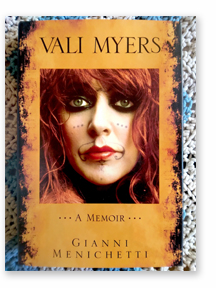 Vali Myers, A Memoir
Gianni Menichetti


Golda Foundation
978-0-9785606-0-7
CLOTH
244
In this memoir by Vali Myers' long-time companion, Gianni Menichetti, Vali's life and life's work are brought into beautiful, clear focus with wit, candor, and great affection. Vali was an artist, dancer, actress, lover of animals and nature at-large. Uniquely original, Vali Myers has inspired countless artists for decades past and present. The artists that sought her out included Donovan, Marianne Faithfull, Mick Jagger, Mary Ellen Clark and more.
The Australian artist, Vali Myers, was a legend in her own time. Premiere danseuse of the Melbourne Modern Ballet at seventeen, she left home and spent ten years in Paris, living much of the time on the streets but never ceasing to draw. Ed van der Elsken famously put her on the cover of his Love on the Left Bank, that manifesto of Paris in the 1950's and her work was praised by George Plimpton in his Paris Review. Then, saying good-bye to all that, she spent forty years in semi-seclusion in a wild canyon in Italy, where she continued producing her minute, mystical, and passionate drawings and looking after a large menagerie of animals. Tough as nails, she fought the local authorities who wanted to introduce loggers into the valley, after a long struggle succeeding in having it designated as a wildlife oasis. Finally, Vali returned triumphant to her native Melbourne, where she was recognized as an artist sui generis. In this memoir by her long-time companion Gianni Menichetti, Vali's life and life's work are brought into beautiful, clear focus with wit, candor, and great affection.
"You saw in her the personalization of something torn and loose and deep down primitive in all of us." —George Plimpton, Paris Review
"Vali's life is as classical, as intense, as necessary, as latently tragic an artist's life as that of Vincent van Gogh or François Villon, Arthur Rimbaud or Janis Joplin." — Ed van der Elsken, photographer
"Vali—the original Tightrope Dancer. Most totter along life's tightrope; Vali embraced the danger and leapt. With her fierce wild spirit, she was a familiar who swept you up in her magical world which made everything else look like a pale shade of grey." —Ruth Cullen, director - Tightrope Dance, Painted Lady
"It was like being friends with some angel who had gotten kicked out for lewd behavior." Christ Stein, musician
"Vali Myers…lived her life without fear." —Julia Inglis, author
"Vali was a gift—of sea and wind." —Peter Weller, actor
"Vali's dogs, Vali's trees, Vali's donkey, the birds, the flowers, the caves, the spiders of Bali. We have seen for the first time the old skeleton of nature." —Bernardo Bertolucci, filmmaker
Literary Nonfiction.