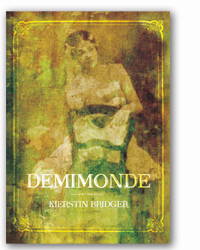 Demimonde (Paperback)
by Kierstin Bridger
104pp. Paperback. (20 vellum images)
Praise for Demimonde:
"These are the songs of saloon girls and prostitutes working the mining camps of the old west— mocking and lyrical, forlorn, ragged, radiant with hunger and cruelty. Check out their clean lines and spikey language, their gunfire and laudanum and perfume."
–Joseph Millar, author of Overtime and Blue Rust
"Kierstin Bridger amazes me with the pure energy that she is able to bring to everything in her life, including poetry. Seamus Heaney called poetry psychic fossil fuel, and Kierstin works that mine, pickaxing coal, finding diamonds. Demimonde is a collection about the dimly–lit world of women who sold their attention and bodies to survive the nineteenth century in the West. What sets Bridger apart as a poet in a densely populated literary world is not only her robust narrative, coupled with growing wisdom, but the way she is able to build , in a manner that often seems effortless, startling and unique clusters of language. I don't know another poet writing today who is able to fashion language into such radiant new symmetries. I look forward to watching her comet trail blaze forth into the world of poetry."
–Sandra Alcosser, author of Except by Nature and A Fish to Feed All Hunger
"The history of the West has a submerged narrative. Beneath the story of conquest and destiny are stories of despair, desire, abuse and loss— women's stories that are finally given lyric voice in Demimonde. "This is the land/ where ladders fall away," where hope and aspiration are used up, where lives are bought and sold. These are stories of "our other selves/ selves we'd want saved." With language that is sonorous, rich and compassionate, Bridger imagines these women back to life, and when we see them lifted out of their oppression, we understand our history in a new way, not storied by men but storied and sung by women, unmuffled, fierce, courageous and compassionate, finally liberated in a burst of gorgeous and sorrowful poetry."
–Lisa Allen Ortiz, author of Self Portrait As A Clock and Turns Out
"This is an amazing collection of poems, spoken in the first-person voices of girls and young women who worked in the mining town "sporting houses" of Telluride around the turn of the last century. Kierstin Bridger's vivid, unsparing language captures the desperation, tedium and pathos of the day-to-day lives of these women in words and images that burn indelibly into the mind and sear the reader's soul like a branding iron. She has the poet's unerring eye for the minute, telling details that reveal not only the physical experiences of these women, but their acute, matter-of-fact perception of those experiences and their hopeless acceptance of the inescapable lives that encompass them. Ms. Bridger so fully and intimately inhabits these women, her poems are not about them, they are of them and from them."
–Jack H. Watson, White House Chief of Staff, 
Carter Administration