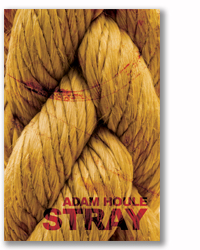 Stray
by Adam Houle
Stray
Adam Houle
Pbk. 80pp.
Pub Date: March 21st, 2017
Advance praise for Stray:

"Subtle and musical, Houle's lines have, for me, deftly 'rearranged the known world's face.' His compassion is many-layered and extends to both the wild and tame, to dogs and wasps and worms, to the most vulnerable people as well as those who only seem not to need it. His images are stunning. Consider these, describing a well-digger drinking from his hands: 'From the side,/ it looks like prayer. From behind,/ like his chest hitches, like he's sobbing.' You, reader, may trust Adam Houle to deepen your desire for what truly matters in our lives, while simultaneously satisfying this thirst for meaning."

Connie Wanek, author of Rival Gardens, On Speaking Terms, Hartley Field, and others.

"It seems you could hold these poems in your hands and feel the heft of night air and snow and chisels and living, in all its hardship and splendor. The wonderfully varied compositions circle and expand: a sequence of couplets, lightly cadenced narratives, and then suddenly verses of gorgeous, heavy wrought stresses. (The pecan boughs in "We in the Republic," for instance, "stretched and heavy with the hard fruit, stitch shade across the tended plot.") Houle has a gift for slowing down already singular moments, offering us the last hanging drop of childhood innocence in "We'd Learn Later Her Husband Left" and the hard end of a hard work day in "Work/Work Balance." Revealing deep moods and masculinities and finely punctuated with the indifferent wisdom of bees, dogs, wasps, and flies, Stray exploits every possible meaning of its title—dog, child, what is misplaced or roaming—and settles at last on the imperative."

​Martha Serpas, author of The Diener, The Dirty Side of the Storm, and Cote Blanche
"In Stray I admire the poems of work, of beekeeping, logging, carpentry, and the tools of work. Adam Houle has a special gift for conveying the dramas of childhood, memory, and weather. The sheer physicality of his poems makes them celebrations of place, of Lake Superior, Wisconsin light, the plains of Texas and Oklahoma, and the Yellowknife girl at the timber camp. There are poems of intimacy with earthworms, bugs, birds, and armadillos. Houle is also a poet of hardware stores, county fairs, and mules on ice roads. The poetry, in a variety of form, including the sonnet, is often elegiac, as well as celebratory, connecting us, through the craft of words, to the unnoticed detail, the past, and the larger world."
​
Robert Morgan, author of Dark Energy, Terroir, Strange Attractor, and others.
"Imagine a sonnet riveted together out of spare car parts. Immerse yourself in a delicious cold you may never shake. Think Jack London meets Philip Levine. This is the world Adam Houle presents us with in his debut collection, Stray--a tour-de-force in sumptuous spareness. And whether the speaker is priming a pump, smashing stolen Mason jars, or killing wasps, there's devotion in the labor, an implacable rightness to the ritual. We enter these poems in innocence and leave them with a hard-won knowledge of the body."

Lance Larsen, Poet Laureate of Utah (2012-2017)
"Adam Houle's Stray explores the United States along its edges: a prairie's fireline, a canyon's lip, neglected nut groves, watersheds, and by extension, roadsides, logging camps, backyards, garbage dumps. His poems illuminate people and place until the dividing line of sentient and not wavers, until we see ourselves in the rusted docks and cracked macadam, the roadside weeds, the trundling armadillo, the abandoned dog that can't learn trust. Three poems in, I gave myself the task of finding a word that strayed from its course, that seemed extraneous, and to my great delight, never found one. These are crisp, aching poems that speak to frailty, to the role of the outcast and the fringes, but most resoundingly, to hope."

Karen Skolfield, author of Frost in the Low Area
––––––––––––––––––––––––––––––––––––––––––––––––––––––––––––––––––––––––––––––––––––
Tags: Poetry, , Adam Houle, , Stray,