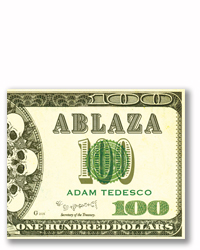 ABLAZA
by Adam Tedesco
ABLAZA
Adam Tedesco
Pbk. 34pp.
Pub Date: April 15th, 2017
Advance praise for ABLAZA:
"A shamanic fever dream of ouroborean reconstitution. Level up."
"How does one differentiate the external world from the internal one? And how, then, should we begin to navigate the space between? In the strangely beautiful world of Ablaza everything doubles. Pine needles become syringes. Ants crawling across a log become a children's snack. The raindrop that opens a storm could, just as easily, be confused for the one that closes it. With its embrace of flux, this collection serves as a reminder that growth doesn't happen unilaterally. Tedesco's poems sink, like the root network of the deepest tree, into the soil while their branches continue to stretch towards the open sky. Here, we must accept that the pain of not-forgetting is intrinsically connected to the joy of remembering. And because of this, Ablaza feels like both an elegy and an ode to the distance between things. The one separating the living from the dead, the past from the present, the lost from the lost. Us, from us."
-Jamison Crabtree, author of Relament, winner of The Word Works' Washington Prize
Tags: Poetry, , Adam Tedesco, , ABLAZA,