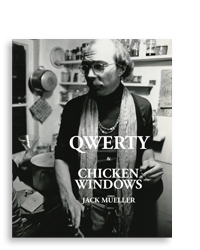 QWERTY & CHICKEN WINDOWS
by Jack Mueller
Paperback/Chapbook
72pp
978-1946-583-031
$17.00/ Poetry
September 2018
Of the post-Beat poetry scene of the 70's and 80's in North Beach, San Francisco, poetry maven and Colorado politician, Art Goodtimes, who was raised in the Bay area, said that Jack Mueller was always the most accessible and friendly toward young, up-and-coming poets. This epitomizes Mueller's reputation as a most open-hearted, instinctually inclusive and ever generative presence. He was an integral part of the San Francisco poetry world until the mid-90's when he left for a job in Texas to be closer to his aging parents, who he helped care for until the end. In the last weeks of his life I asked Jack about having a cowboy reading at the bookstore, he replied, "everyone's welcome."
Raised in a strong family of Germanic origin, son of a scholar of philosophy and religion, Jack traveled on merchant ships across the Atlantic to post-war Germany during parts of his formative years. For four years in the mid-60's, in his mid-twenties, he was in the east, mostly in the Peace Corps in rural India. Exposure to far parts of the world at young ages informed and shaped his trajectory and fueled the fire in his mind.


I met Jack when he 'retired' to a home at the end of the road, at the top of the hill, outside a small mountain town in southwestern Colorado. Our friendship arose from a shared base of scientific understandings and from our wide ranging imaginings and yearnings which sparked rivers of connections we intuitively found -- as I walked in the door the conversation began in the middle and fell forward. To be in his presence was an invigoration.


Like so much of Jack Mueller's work, this book is about climate, not weather. Both Qwerty and Chicken Windows take mundane moments, thoughts, occurrences, and relocate them into new places, bright and active at all points. The disparate nature of these two works is a microcosm of his larger life, lived according to one of his major maxim's: obey emerging form. He continually discovered new ways of saying what he had to say, new ways to write it down. All of Jack's work is imbued with humor-wisdom that, among other things, rises from his acquaintance with paradox, his coyote eye splays on every page. He was a despairing optimist.


In Qwerty, Jack pokes fun at the object - the keyboard that has become so ubiquitous it is almost invisible. This celebratory work is evidence that he is up for the challenge presented by William Carlos Williams, as he ponders the alphabet and is baffled, "...that no one has yet taken the trouble to write it out fully." Jack was always working, playing, provoking, pushing Language to somehow - do more. He goes into the heart of what annoys him, uses the outdated keyboard to further his own explorations and thus, epitomizes Calvino's observation that, "Mankind is beginning to understand how to dismantle and reassemble the most complex and unpredictable of all its machines-- language." He scrubs the linen of doing things this way because we've always done it this way and brings new words, sentences, ideas into existence; new relationships enter the collective mind. Civilization grows on great convection currents of Language that boil out facility with symbols that enhance our ability to make new connections of existing information. This ultimately helps our survival, which, when combined with humor and love, can lead to an elevated existence; a continuing progression. Jack wrote, "we are creatures of the jump possible."


On the surface, Chicken Windows is a light-hearted collection of flash-prose pieces; a galloping autobiography that begins at age 45 minutes. It quickly moves into a fun-filled family life, elicits an undertone on the difficulty of relationships, muses on: writing and pigshit, the possibilities of matriarchy, and the varied meanings of Everything. Jack "removes the microbes of self-deception," moves from despair to euphoria, from, "Life is terrible...," to a really marvelous end.


When he died in 2017, Jack left behind a major unpublished life-work, The Portolano Poems, several long essays, many notebooks (from the 60's on), thousands of disparate poems, ink drawings on 3X5 cards, bar napkins, bookmarks, coasters, and boxes of magazine collages.
This is his first work to be published postumously. "Quit whistling entropy...," turn the page, here's some gas for a gasless night.
–Danny Rosen, Lithic Press
Tags: Jack Mueller, , Lithic Press, , Qwerty, Chicken Windows