Art Goodtimes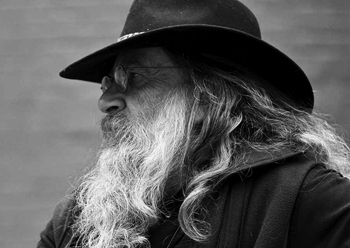 Art Goodtimes is an American poet, farmer and politician in Colorado. Goodtimes was first elected to the San Miguel County Board of Commissioners in 1996 as a Democrat. He switched
to the Green Party of Colorado in 1998 and was re-elected in 2000, 2004, 2008 and 2012.
Retired in 2016 after five terms as Colorado's only Green Party county commissioner, Art Goodtimes has won numerous awards for his political activism including from the Dept. of Interior, the Forest Service, conservative Club 20 of Grand Junction, as well as serving on dozens of boards and commissions on the local, regional, state and national levels. He co-founded the Sheep Mountain Alliance, Telluride's local environmental group, in 1988.
A former newspaper editor, he continues a weekly op-ed column "Up Bear Creek" in the on-line MontroseMirror.com, and a monthly op-ed column "Looking South from Lone Cone" in the Cortez-based Four Corners Free Press.
Art studied to be a Roman Catholic priest for seven years, and has continued to marry people as a Universal Life minister. He co-directs the Telluride Institute's Talking Gourds poetry project, is poetry editor for Fungi magazine (fungimag.com), and co-hosts the Sage Green Journal online literary anthology (sagegreenjournal.org). He was awarded a Colorado Council on the Arts poetry fellowship in 1989, has been poet-in-residence of the Telluride Mushroom Festival for 39 years, and was named Western Slope Poet Laureate from 2011-13. A long-time board trustee, he was founder of the Institute's Fen Advisory project and is director for their Ute Reconciliation program.
His latest poetry books are As If the World Really Mattered (La Alameda Press, Albuquerque, 2007) and Looking South to Lone Cone (Western Eye Press, Sedona, 2013). He was co-editor of the anthology MycoEpithalamia: Mushroom Wedding Poems (Fungi Press, CA, 2016).
A widower and a grandpa, Art lives at Cloud Acre on Wrights Mesa near Norwood with his two sons, Rio Coyotl and Gregorio Rainbow Oshá. His oldest daughter Iris Willow and his granddaughter Aurora Willow Fan live in San Francisco's Bernal Heights neighborhood, and his youngest daughter Sara Mae Friedberg makes her home in Telluride and works for the Telluride Science Research Center.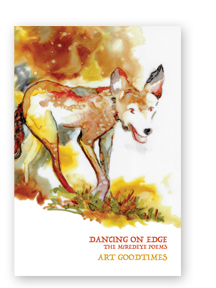 Tags: Poetry, , Poet, , Art Goodtimes, Dancing On Edge, The McRedeye Poems