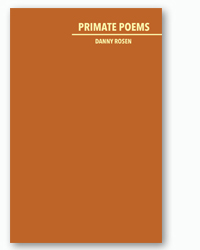 Primate Poems
by Danny Rosen
•••
Primate Poems
Danny Rosen
Pbk. 112pp.
Pub Date: November 29th, 2016
Primate Poems
exemplifies the nature of a very young species coming into awareness of itself. Many of the story-like poems are moments of 'something going on' in the midst of 'normal' life, walking up the stairs, leaning on the counter, watching the ballgame... Immersed in geological and astronomical thought, these poems ruminate on punctuated equilibrium, the empathy of distance, interactions between dolphin-human-dog-beaver, Japanese tourism, and the possibility that the savior of the trilobites has indeed returned.
•••
About Danny Rosen
Danny Rosen founded Lithic Press in 2008 and opened the Lithic Bookstore & Gallery in Fruita, CO in 2015.
Primate Poems
is his
fi
rst full length collection of poems. His second chapbook,
Ghosts of Giant Kudu
, came out in 2013 from Kattywompus Press. Danny's genetically based optimism is steeped in his familiarity with deep time and big space. He studied geology, astronomy, and science education at University of Wyoming and Harvard.
His poems have appeared in
Pilgrimage, San Pedro River Review, Comstock Review, Fruita Pulp, Malpais Reveiw
and
Santa Fe Literary Journal
. He lives among dogs in Colorado's western desert.
•••
Tags: Danny Rosen, , Poetry, , Lithic Press, , Primate Poems, , Science, , Astronomy, , Geology,