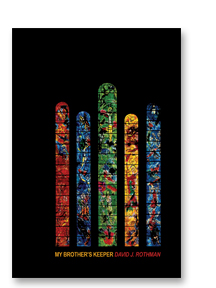 My Brother's Keeper
David J. Rothman
Perfect Bound
32pp
ISBN
978-1946-583-086
$12.00/ Poetry
Winter 2019
Praise for My Brother's Keeper:
"Rothman's poetic mind has that quality that rhetoricians used to call "copia"—a generous richness of concept and feeling and imagination, a huge but easy command of reference, tone, allusion, and interpretation. Whitman and Ginsberg had it, as did Milton and Goethe, all of whom find their way into his grand and moving poem for a dead brother. The poem calls on many genres—elegy in the tradition of "Lycidas," Kaddish, Midrashic textual exegesis, the whole tradition of the American family novel, Blakean mysticism, and beatnik rant—and welds them into a gigantic question, in fact the big question. Jacob wrestles with God: and so all four words mutually reinterpret each other. What is God if he can be wrestled with? What is Jacob if he is Israel? What is it to wrestle? And what does "with" mean if we are talking about God? What is sonship? What is brotherhood? The poem explodes into a sparagmos, a diaspora, and then implodes into an ending that turns the poet from a grieving brother into the reader's brother."
—Frederick Turner, Founders Professor in the School of Arts and Humanities, University of Texas at Dallas.
"David Rothman's My Brother's Keeper is an enlightening, disturbing, and profound journey. It signals that spiritual values remain crucial. The poet mourns his wayward brother and celebrates renewal when writing of his youngest son. Between grieving for the troubled sibling and love for a young man about to stand for his bar mitzvah, the Jewish rite of passage from boyhood to manhood, there is much artful interweaving of images, some horrifying and others uplifting. It is personal history made universal through Rothman's gift for language. In haunting tones and dramatic shifts of mood, My Brother's Keeper delivers poetry that is memorable and deeply touching."
—Neeli Cherkovski, Poet
Tags: Poetry, , Poet, , Lithic Press, , David J. Rothman